2019 January group
"I am really glad I did this course. In a matter of a few months I feel it has changed me beyond belief." Dominick McGreal, construction worker, Co. Mayo.
"All 'teachers' are brilliant. She [Elaine] is absolutely phenomenal." Anna Klys, Galway.
"The course was a very positive experience for me. Power of the group dynamics, support of the facilitators and my personal journey. I have thoroughly enjoyed every aspect of it." Laura Kelly, Social care worker, Co. Galway.
"I really enjoyed the course as apersonal process. It helped me 'firm' up on some things I knew and discover new things about myself too." Niall, retail manager, Co. Clare.
2018 September Group
"It highlights issues within a shorter period of time that counselling alone may take years to surface"  Conor Carmody, Nurse.
"The variety of the facilitators was amazing. I wanted to be a sponge to soak up all the wonderful knowledge up. A thoroughly life changing experience for me". Mary Murphy, area manager, greeting card co. 
"I found it to be open and supportive in nature and a hugely significant event in my life" Joseph Foyle, product operator.
2017-2018 Groups

"I especially liked the personal aspect of the course, the art therapy and body work took me to places I never expected to go. I gained a higher level of emotional self awareness and intelligence. The course has been a great gift to me, and has helped me move towards the next step in my personal and professional life." John Huban, mental health peer support worker.
"To spend a full day delving into the personal/emotional part of ourselves, exploring, opening up, building trust; this was very powerful and so much was learned individually and as group. Then to learn the theory, the thinking behind these processes, how to identify and draw them out using various approaches was incredibly useful and interesting. The experience has been second to none. I have learned so much." Miriam De Búrca, Artist, lecturer.
"I really enjoyed the fact that we were working with 3 different people [trainers] every weekend. The art work and bodywork process were amazing. As a group we were guided through a lot of emotional experiences that people had had and shared. We learnt a lot about ourselves. All the trainers were professional and helpful. It was a great life changing experience. I would recommend this course to everyone who is interested in pstychotherapy or who wants to improve their self awareness and quality of life." Nora, teacher.
"I would recommend this course to anyone, even if you feel that you have no interest in counselling or psychotherapy. It is the journey, the process that will stick with you forever." Mark Crehan, chef.
"I just wanted to say a huge thank you to you for your honesty, integrity, genuineness and humour and for providing such a fantastic course. I really enjoyed it, had some wonderful experiences, learned so much and have made some beautiful new friends." Siobhan, Westport. 

"I think the course is very well designed, very well implemented and is a perfect starting point for anyone aspiring to become a psychotherapist or with an interest in psychotherapy. Extremely worthwhile". Conor, Galway.

"This course has been one of the most raw and fulfilling experiences I have ever had. Aside from being given an excellent overview of psychotherapeutic theory and practices, the self-acceptance and growth I experienced through the group-work dynamic was profound. The facilitators showed a huge amount of competency, skill and compassion. If you are considering a career in a therapeutic role I would highly recommend this foundation course as a preliminary step, to prepare you both professionally and emotionally. My awareness of what it means to be a therapist has matured greatly since the commencement of this course. Regardless of whether you are interested in pursuing a career in therapy, this course provides a safe and supportive space for the individual to explore themselves and grow. There is a huge amount to be gained for everyone." Danni Lynch, Psychology graduate.
"I've learned more about myself here after 6 months than I have in my entire life." Tara Prunty.
"The best gift that I have given myself. The course is meaningful, powerful and a new version of me has emerged. A hollow void has been filled and replaced with awareness, curiosity, vitality and optimism." Martin Dunne.
"The course helped me look very deeply into myself in a nurturing atmosphere, with great, knowledgeable facilitators and among wonderful people. I am very happy I signed up for this course and very grateful for  it." Agnieszka 
"This was a very enriching experience for me. I learned a lot about myself and experienced a lot of healing." Imelda, personal assistant.
"One of the best courses I have particiapted in and learned so much". Bernie Fahy, skin specialist.
"Very intense but highly worth it! Best course I've ever done". Abby.
"This course was easily worth the price of admission. I got so much out of it, and I don't regret it for a moment. The personal process work is priceless and thorough. The support is fantastic. The up-to-date information on courses and training centers proved very valuable, as professional training courses are not straight-forward to find! Norman is a man of integrity and has a wealth of knowledge which he is always willing to share. If you're thinking about pursuing Counselling or Psychotherapy I would strongly recommend this course. If you want to find out more about yourself this is an excellent way to go about it." Larry.
"I really liked the group work and working within the group, learned a lot in this environment…Art therapy really got to my deep emotions …I enjoyed body therapy also, helped me pay attention to how emotions affected me physically. Thoroughly enjoyed the experience, made alot of personal progression." Blayne Burke, factory worker.
"I liked the personal process, how I learned more about where I want to go in life. I also really liked the theory aspect, it made me really curious to learn more about whats going on inside me." Ayisha Lightbourne.
"I found the course helped with my anxiety, improved my relationships with others, and left me feeling more confident and self assured. The course facilitators were extremely knowledgeable, friendly and approachable." Chris. Teacher/Bartender. 
2016 Groups 
"This course has been the most endearing, insightful and the deepest experience I ever had.."  Christina (Westport).
"This was an excellent course, by far the most worthwhile one that I have ever been a part of. Marguerite, teacher.
"I found this course changed how I feel about the world around me and other people. This has made my life easier and given me a sense of warmth, support and interest in my life I never had before. I am excited about my future and feel truly touched with the care and support I felt. I have never been so grateful!" Nadine, cafe manager, Galway.
"It has been a deeply satisfying experience. It has benefitted both my social and professional relationships." Denise, Acupuncurist.
"The course has been one of the most profound and valuable experience I've evr had. I learned alot about myself and felt hugely supported by everyone involved. It has definitly changed me and will most likely impact greatly on my future life and career. Working with the therapists/trainers, learning from them and feeling supported by them has been significant and transformational in itself." Aoife, Galway. 
"I feel leaving here and going onto further study I just hope I'm a student to the same caliber of mentors as Norman, Ann Marie and Elaine. They have set a very high standard and I'm truly glad and feel extremely lucky to have been on this course." Esther.
2015 Groups
"This course brought wonderful insights into my life. I found it a very mind broadening and wonderful experience to learn so much about interpersonal communication and self understanding. It has been one of the best experiences of my life. I feel encouraged and have grown in self confidence very much." Eleanor Maher, Nurse/Homemaker.
"Excellent course. Highly recommended. Has provided a taste for more learning but more than that has helped me look at situations and people in a different way." Tracey.
"I was afraid of doing this course before I started because I felt that people would wonder what I was doing there, and that I would be an outsider.  I found the opposite, which was that there was people from different backgrounds, there for different reasons and I couldn't have been made to feel more accepted and safe. In terms of personal development, I would take the course fee, turn it into pennies and pay that weight in gold for the amount I got out of this course." Robert Gannon.
"Fantastic way to spend a weekend. In a small intimate class with like minded people feeling totally secure whilst you explore your inner self." Loretta Langan, Business owner.
"Whether you have a direct interest in psychotherapy, or want to begin/continue a journey of self-discovery, this is a fantastic course to sign-up to. If you are willing to honestly commit you will learn things about yourself and acquire new skills that will last you a lifetime". Micheal, Company director/Teacher.
"An excellent course as an introduction to counselling and psychotherapy. I learned so much about myself as a person and I have made friends for life. Perfect for anyone who has an interest in the mind or wants to gain a better understanding of their own thought processes and patterns. Highly recommended, thoroughly enjoyed it!" Claire O'Farrell, Journalist.
"I couldn't recommend this course more, I have learnt a lot about both myself and psychotherapy. Everyone can gain something from participating in this course." Nuala, communications intern. (Co. Mayo).
"I really enjoyed the experience of a contained experiential supportive learning environment." Sarah.
2014 Groups
"This course is amazing for self development as well as preparing you if you wish to study further in the field". Samantha. Galway.
"The goals and aims that you have at the start of this course will be addressed in a way you never expected. I could not recommend it enough! Norman is a brilliant mentor, Elaine and Ann Marie immense in bringing out of you yourself". Andrew Connolly, Galway city. 
"I have spoken to a few others in the class about how difficult it would be to put into words how much I have gained from this course. It's a course that has the potential to change a persons life and for me the expereince, although sometimes painful, has been hugely positive. I have progressed further on some issues in my life that have allowed me now to move on and grab life with both hands. Shirley Murphy, HSE Administration consumer affairs. 
"I cannot recommend this course highly enough…This course has changed my life for the better in immesurable ways…When opting to do a course like this it is important that you are assured that its safe and controlled this proved to be the case". Maire Ni Dhomhnaill, Senior Specialist Regulatory Affairs (Pharmaceuticals).
"The best I can describe the course is that I have found a new me, a more happier, confident and content person. I found the whole process amazing and would recommend it to anyone". Declan Cawley. Co. Sligo.
"Fantastic facilitators, great content - this course is something I would recommend to everyone".  Michael Molloy, sales. Co. Galway.
"It is a course I would strongly recommend for everyone. A very unique journey and a fantastic opportunity to connect to your body and mind". Natalie Flis,  F & B assistant, Co. Galway.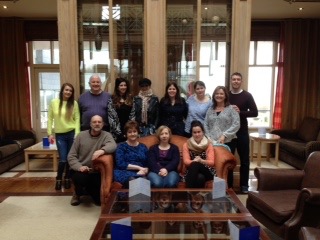 "This course is the start to the greatest personal journey that you can make! This course will safely take you on a journey of self-awareness. It is an amazing journey taught through Art Work, Body Work and group work. I have learnt so much about myself in the last six month and I have developed a hunger to continue on this journey. All of the facilitators are exceptional and have helped each of us on our journey of self-awareness with such expertise, empathy and kindness." Katharine McMahon. 
"This course has really opened my eyes into myself and made me see myself truly for the first time in my life. This course has been an invaluable experience to me". Pauline McFarlane
"I found the foundation course a great experience. I learned to express myself in new ways & learned so much about myself in such a short period of time. Its is a course I will always remember as been very valuable to me". Ann Marie, Galway.
"Stepping outside of my comfort zone has been difficult but it has given me the opportunity to learn about myself and the life that I have chosen. It has helped me find real happiness...I suffered from chronic pain from an injury I got at work four years ago and through exploring the techniques we learned in body therapy I have learned to manage my pain more effectively and I do not rely on pain relief on a daily basis now." Neal Donohoe, registered nurse.
"I am very happy to have done the Foundation Course with Galway Counselling Studies. The mixture of group work and skills training has been a great help to me personally and academically. I would highly recommend it whether you are planning to go on to train as a therapist or are just interested in your own personal development." John Mayes
2013 groups 
"Great course. For me it was life changing. It gave me huge awareness and support in the challenging times. Really glad I signed up for the course". Mellissa Carroll, Galway. 
"I found this course really excellent. It made me see parts of myself that I had carefully hidden away and it has given me the strength to look inward at those aspects of myself rather than run away. I feel like I now have the strength to now start to step into myself. In summary I have really enjoyed this course and would do it all again in a heartbeat. I have spent 8 years of my life in college but this was the single most influential course I have ever done".  Anne Conneely, Technical Specalist R&D.
"This course has literally helped change my life. It has been a significant step in helping me to more clearly see myself and to see where I want to be in my life. I would recommend it to anyone who genuinely wants to look at and be more aware of themselves". Bruno de paoli
"Everybody should do this course. I, in a very short space of time I found the real me. I had hidden that girl for a long time. Normans course taught me how to accept and love the real person within and take her to the surface. In a safe, calm, honest  environment I allowed myself to discover not only who I am, but the people around me. The course gave me the courage to walk away from negativity. I see my life in a different way now. I love me now and the world. Thank you to Elaine and Ann Marie whose gentle encouragement helped me complete the journey. Thanks again Norman , you have changed my life for the better". Noelle McNamara
"All the lecturers were very professional and showed genuine care for everyone's personal growth in the group" Margaret O'Brien, Solicitor. 
"Hi Norman, Margaret O'Brien here from the Foundation course that ended last July. I have started the Masters Course in Psychotherapy in UL and I am on week 3 already!. I just wanted to say thank you so much for offering the foundation course. The foundation course was a great course to prepare me for my UL studies. Every aspect of the foundation course allowed me to prepare and ready myself for my UL studies and I am very grateful for that." 
"When I started out on this course I had no idea how much I would have changed by the time it was over. In the past I never allowed myself to peel pack the layers of my life and look at each one. I have done that. It has been a hard, tough journey and at times I just wanted to give up and stop doing it but I didn't". Mary Durkan, retired bank official. 
"The assignments greatly assisted personal development, asking very simple yet hugely significant questions...course was well structured, support was available at all times. Extremely interesting and enjoyable" Kate Kennedy, senior radiation therapist. Galway Rose (2013).
"Really enjoyed the counselling skills practice as it was very real and constantly challenging" Aoife McNulty (Sligo). 
"The course was a very safe place to be honest with myself" Jude Quigley (Sligo).
"I really liked the broad range of psychotherapy styles covered" Brian Dolly (Galway).
"I liked the feeling of pure safety to be me in the group...I liked the variety in the weekend structure with the art therapy, bodywork and skills practice. I grew to know myself better on this journey as I was led by a core team of true professionals." Edna Rape crisis centre worker.
2012 Groups 
"I found the course better and more advantageous than I ever imagined" Anne Ruane, Galway
"Thoroughly enjoyed the course and would highly recommend it" Mary Walsh, Galway
"I especially got a lot for myself out of Elaine's class. I learnt alot about myself & I feel I have been given help to learn patterns in my life & how to cope with them. I have gained a lot of confidence & feel much more positive after this course." Martha McKeon Lynch, Galway.
"Felt very safe...and her ability to zone in, and her ability to perceive things and hit the nail on the head never cease to amaze me. I got a lot from those sessions" 
"The art therapy was a great experience" Cathriona Leonard, Kilkelly, Mayo.
"I enjoyed the freedom of the art therapy". 
"Assignments were challenging and valuable. I learnt so much about myself and learnt self acceptance" Suzanne O'Gorman, Oughterard.
"Very interesting and practical assignments" Olwyn Griffin, Doolin
Letters:
"..Just to let you know that Gina, Martina, Sarah and I all got the Diploma on Saturday. We are psychotherapists now! We were chatting and decided that because we did your course we had such a great foundation and the whole process was easier for us as a result. Thank you" 2012
"Good Morning Norman, I have been thinking about your Foundation course quite a bit over the last few days. That was my stepping stone on to a whole new journey of self development. I found out at the weekend that I will be receiving my Diploma and I am absolutely delighted. Actually a number of people who have done your Foundation course will also be receiving their Diplomas. I am seriously considering continuing on to do a Masters in Bereavement Studies with the Irish Hospice Foundation. Thank you Norman for all your help and guidance on this journey and I hope that all is well with you. Martina Coen." 2012
More Testimonials
"This course provided new insight and new perspectives that I could not have imagined. I would thoroughly recommend this course to anyone looking to further their personal development or a career in counselling". William Corless, Operations Manager
"It has been such a refreshing, uplifting and mind opening experience – I could never have possibly imagined participating  in such a life changing experience. I originally was interested in participating in and learning about Counseling and Psychotherapy but looking back now for me this was mainly a very positive experience of self development". Joanne O'Donnell, Media Developer.
'Really enjoyed the course and the fact it seemed like you were working with us as opposed to lecturing us! And there was always a sense of humour' Caroline Byrne (Limerick)
'This course has been amazing, really enjoyable and truly life changing. Hand on heart it has been the best money that I have ever spent' Olive (engineering tech)
'I enjoyed the groupwork in the course. I found all the teachers were fantastic. I found the honesty, and support from everybody was brilliant. I loved that it opened me up to being more aware and honest with myself' Mark McCabe (Galway)
'Very enjoyable worthwhile course. Excellent personal development and learning in a caring supportive environment' Ella Larkin (Nurse)
"I arrived to the course wanting to get to know myself better and I left with a finer appreciation and trust in myself which has led me to make the next move in my life professionally and surprisingly...personally". Eimear Connaughton, Occupational Therapist
"Saturdays with process work were especially important to me, as they helped me a lot to better understand some aspects of my behaviour and reactions to certain people and situations. It also helped me to realise which direction to take further in my life" Tatyana.
'I thoroughly enjoyed this course and was amazed by how much that I learnt about myself. The quality of the teaching, the calibre of the teachers and the experiential nature of the course really help to create and hold a supportive environment where I could really begin to hear my own authentic voice. I realise now that there is a world of difference between intellectual knowledge and self awareness. After 7 months of art therapy, bodywork, personal therapy and skills practice I've really become much more attuned to myself. What's more, I know what I want. I've decided to continue on my studies and have already been offered a place on a recognised course. I cannot recommend this course highly enough. The stunning location alone is already worth the drive!' Gerry Maher.
'I can without doubt say that this course was a fantastic experience, as well as being a real eye opener into myself'.  It has thought me so much about myself and others and has left me feeling empowered and knowing that I can do anything I put my mind to.  Of course all this would not have been possible was it not for the exceptional help and guidance from Norman, Elaine and Ann-Marie, as well as the other amazing people on the course who made this experience one of a kind' Sarah Morrissey.
I want to thank you again for the course and all involved. It truly has opened up a brand new better world for me and for that I will be eternally grateful. Gina O'Grady.
"I would recommend this training to anyone who is interested in self-development, even if they do not wish to train as a counsellor or therapist. It was a challenging, uplifting experience and a wonderful opportunity to grow in understanding of self and others" Paula Martin (now in professional training)
"Doing this course has been the greatest gift I have given myself. A whole new world has been opened up to me. My best description of the course is a river. I met currents along the way but I flowed through stronger, more aware of obstacles and freer at the exit. The body work/art allowed me to open up to my creative self in a safe supported environment. A warm thank you to Norman, Elaine and Ann-Marie for creating the space for my journey of self-discovery. My journey is only beginning". Sarah Hynes (now in professional training)
"This foundation course has been one of the most profoundly transforming experiences of my life. We ended the course with every single course participant spontaneously giving every other person in the room a big hug. I can think of no more beautiful or more powerful image for the enormous gift of complete acceptance for every single person's individuality that the course fostered. I feel immensely strengthened by having been able to acknowledge and mind my vulnerability in a safe environment, feeling so completely supported and accepted by all those wonderful people who shared so much of their own vulnerability and courage". Katharina Walter
"It was a great balance of theory and practical, and I would recommend it one hundred percent to anyone" Michelle Wilson
"I found the Foundation Course to be incredibly enriching; a challenging experience which I found to facilitate real individual growth. Having small groups for experiential aspects of the course enabled really deep, powerful group and individual exploration. The weekends were intense and provided me with many learning experiences. I was extremely impressed by the professionalism and passion of the course facilitators - Norman, Ann-Marie & Elaine. A course such as this relies heavily on the team which facilitate the various elements and I really cannot give enough high praise for the three of you. I thoroughly enjoyed having the Art Therapy and Bodywork as parts of the course... I would highly recommend this course to anybody who wishes to explore their own personal process and who would value a challenge." Vanessa Hoefler, Galway. Has now completed a Diploma in psychotherapy.
"I liked the balance between theory and practise, I think it gives a good overall introduction to counselling…It was a very supportive, scary, fun, rewarding and worthwhile experience, worth travelling eight hours each weekend for!" Kate McLellan, Co. Waterford. Has now completed a masters in Counselling Psychology.
"I feel I've learnt a great deal about myself in the last eight months. Things that I wasn't aware of as well as things I've avoided in acknowledging. It's been personally challenging and emotionally demanding but worth every minute" Patrice McDonnell, Furbo
"Just wanted to say thanks a million for a really enjoyable year…I really feel the last year has been such a wonderful journey full of self-discovery. I feel the group really offered me a place of great support, acceptance and understanding- a place where I could really feel safe to journey deeper within myself...I will continue to recommend this wonderful course to others" Emer Sheahan, Cork (accepted onto counselling training programme in Trinity college, Dublin)
"Certainly, the strongest element of the course was the personal development work...I really think that the experiential aspects like 'the counselling skills practice and on-going feedback make this course particularly special and unique…All the therapists involved were of a high calibre and each one was supportive, committed and knowledgeable" Jason Power, Co. Kilkenny
"I really enjoyed the Foundation course, every second. I felt I could give the course my all, due to the well defined structure of the course and the safe and healthy environment in which it took place…felt at ease yet in control of how much I shared within the course. I especially found all the lecturers very approachable and enjoyed learning from all three of you. I enjoyed having the smaller group on Sundays in order to be able to work through more personal issues" Ruth Friel, Co. Galway
"Everything the course had to offer exceeded my expectations. Every element of it sparked off a journey of thought and learning. I was delighted to have met, worked and eventually establish a very strong bond and friendship with the group I was privileged to be part of. I particularly enjoyed Art Therapy and was amazed at what it had to unravel. It showed just how powerful that form of therapy could be. I thoroughly enjoyed the assignments and also exploring the different schools of thought. It was an amazing experience, one of personal growth and knowledge. Considering it was a "foundation" course, I was impressed with being introduced to a wide spectrum of information at a very comfortable pace. This foundation course was so captivating that it only made me thirsty for more. I have definitely decided to go further with this subject and hope I get as much from my future course as I did from this one. A brilliant course. It will always be an important turning point in my life's journey and will hold a profound enjoyable memory. It has opened up so much for me. I have grown so much through it. an amazing experience". Pam Carragher, Human Resource Manager (now in final year of professional training)
"The course has surpassed all I wanted. Would highly recommend it. Excellent course" Margaret Tierney, Development manager with Console - (Has now completed a degree in counselling and psychotherapy)
"I got up at 5.30am each Saturday of the weekends and drove from Dublin to Galway for the course. and towards the end I was looking forward to each weekend...so it definitely gave me energy and motivation. I was given a great opportunity to reflect on things". Alan King, civil servant (Dublin). Is now in final year of professional training
"The course was excellent; excellent variety, excellent tutors, excellent facilitation. This has been the best self investment I have ever made. It is hard to describe in words the 'high' you feel after the weekends. Its a great feeling of self acceptance, of reassurance, of hope and belief in the future. It was just so worth it. I had a wonderful group of people to work with and learn from and excellent professional tutors". Mags, teacher (Cork)
What I liked about this course was: The location – beautiful setting beside the beach. The tutors – always professional, interesting & interested, relaxed. All the personal development work, counselling skills, Art therapy day, Biodynamic therapy day, feedback exercise, video exercise, group work, going down to the beach work, etc., etc., etc. I've done a lot of courses over the years but this one was exceptional. It has been a life changing experience for me. I've learnt so much from the fantastic tutors and have got a real insight into myself as well as to Counselling and Psychotherapy. This course has given me the inspiration and the confidence to continue studying and learning more about this fascinating subject. The mixture of personalities in the group was amazing, I felt from early on that I was meeting a group of friends each weekend. I would and will recommend this course to everyone!" Gillian, Recruitment Assistant
2004 Groups I & II
"I had not given much thought to the content or what to expect before I started the course and I have to say I found everything we did, from the first weekend to the last, incredibly interesting, insightful and worthwhile. I found the amount of personal development work throughout the course really complimented the theory work, and provided a perfect opportunity to put the two together for a greater understanding of the material. All of the trainers added their individual touch to the course which made it so much more personal and effective. Completing this course was possibly the best thing I have ever done for myself. It took something I was interested in and turned it into something I am now passionate about. The amount I have learned about Counselling and Psychotherapy, but more importantly myself, has really surprised me. It was an amazing journey of discovery, which I will continue with enthusiasm and a great appreciation for this course and the people I met on it, for starting me out so wonderfully". Jane Lee, Legal Secretary
"I liked just about everything. The people were fantastic and I feel it was a privilege to be part of that. The atmosphere within the course was one of non-judgemental acceptance right from the start, and within that we all grew enormously. The fact that you made your library of books available was really excellent, as I ended up reading some books I might never have bought otherwise and learning a lot from them. The exercises at the start of the course brought us in contact with our feelings and I think this contributed greatly to the bonding that happened within the class. The theory was explained very well and topics that seemed complicated in books I read, were presented in a simple and straight-forward manner. The work we did on empathy was excellent and something I brought away to use when dealing with my 12 year old son. It has made a huge difference in the way he opens up to me about concerns he has and I think this technique will be particularly valuable during his teenage years. This course greatly exceeded my expectations. As a result of it, I know that I definitely want to continue and do a diploma course. I just hope I learn as much from it as I did from the Foundation".  Mary Howick, Senior IT Manager/Reiki Master (Donegal)
"This was the most useful journey of self-discovery, the best investment "in me" I have ever made!  It was also the toughest, most challenging, painful, and rewarding period of education I have experienced to date. The course took me completely by surprise.  It was nothing that I expected, and everything that I needed. I have experienced enormous growth and development emotionally. I leave the course more fully aware of who I really am, who and what has shaped me and of what I am capable. I absolutely adore the personality of our group, and am extremely proud of the part I have played in forming and adding to the dynamic of the GCS class of 2005. I look forward to carrying with me the love, acceptance, warmth, excitement, growth, pain and confidence of the group. My interpersonal skills have vastly improved. In the past, I have taken courses where I have been taught what could be done if I applied myself. This is the only course where I emerged with life-changing improvements and strategies in place, and useful tools already developed, for use in the future.  I have seen the personal growth, as the course progressed, in all of us, and it amazes me. The course is well thought out, professional and extremely valuable.  Not only as a foundation course with a view to a career in counselling. More importantly, as a tool to self-understanding and therefore highly valuable to anyone who deals with people. Be it in personal relationships, work, with our children, dealing with the public, wherever people-skills are used this course is a must". Katherine McGee, Proprietor, MARIANS Galway."
"I loved the closeness of the group in the course. I felt I could talk about anything to them and they would accept me completely. I also was very privileged  by the fact that they chose to share with me. I loved the relaxed structure of the course and that it wasn't hugely academic. I also liked the way books were available to us but there was no pressure on us to have read them. This course was a breath of fresh air compared to the course I undertook in college, and the people were amazing. The course hit a balance of academic, factual knowledge with practical experience and self development projects and group work. I enjoyed the relaxation element a lot and walks on the beach (weather permitted of course!), so I would have liked more of them, there's is nothing I would like less of". Louise Lyons - Psychology graduate
"The course has helped me greatly in accepting and appreciating who I am. It has strengthened my self awareness immeasurably. I began it for professional reasons. Now I realise that the greatest work I have achieved has been on myself and only through this can I be more socially and professionally effective. I recommend it highly-in fact., I already have, to colleagues and friends." David Harkin, secondary teach